Social Responsibility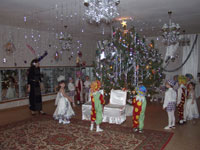 Since the inception of the Volga-Dnepr Company, social and charitable programs have been an integral part of their development strategy.
After 15 years of trading Volga-Dnepr Group are pleased to consider socially responsible projects an important part of their development leading to higher staff morale and a good working relationship with the state. The Volga-Dnepr charity programs supplement the social programs pursued by regional and federal authorities, showing a sincere desire to help people in need and show social solidarity. To the Volga-Dnepr Group social responsibility has become an important element of the corporate culture, and is a determining area of its development.
Help to Children
Volga-Dnepr believes that helping the younger generation is its first priority, which is central to the ethos of the company; they call it 'social investment'.

The Volga-Dnepr Group has a particular focus on supporting disadvantaged children; in particular, the Group has been supporting the Raduga (Rainbow) Orphanage in Cherdaklin near Ulianovsk for many years.
Educational Programs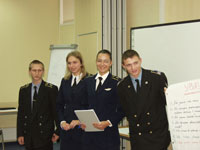 Successful implementation of the 'management succession' program is among the Group's strategic goals. This involves the target-oriented training of young professionals and students and is considered a priority within the Group activities.
Volga-Dnepr Group of Companies has entered into an agreement for strategic partnerships with the leading high schools in the Ulyanovsk Oblast, such as Ulyanovsk Higher Civil Aviation School, Ulyanovsk State University and Ulyanovsk State Technological University. Training students on courses that are specifically geared to market needs has resulted in a high number joining the Volga-Dnepr Group. In 2005 alone, 50 out of 120 interns on the
Volga-Dnepr training courses got an employment offer from the Company. Joint research projects deserve special attention; over the last two and a half years Volga-Dnepr have undertaken a joint project with Ulyanovsk State University to develop an integrated information system to share business process descriptions.
Support to War Veterans and Disabled People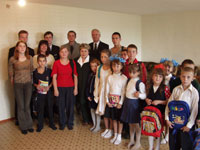 The Volga-Dnepr Group pay particular attention and offer care to the WWII veterans; in addition to the veterans employed by the Company, assistance is provided to the Ulyanovsk Oblast War Veterans Hospital.
Charity activities by Volga-Dnepr also include supporting the Non-Profit Municipal Organization for People with Disabilities, the Oblast Gerontology Research Center and other similar institutions.
The Group aims to support the War Veterans and people with disabilities to find employment and offer financial assistance to enable them to contribute to society.



Support to Culture and Arts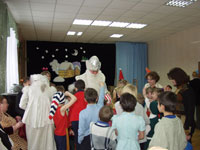 Supporting culture and the arts is a traditional charity activity for Russian companies; Volga-Dnepr is no exception to this rule. The Group of Companies routinely supports a number of major regional cultural projects, such as Ulyanovsk Oblast Philharmonics, Plastov Fine Arts Museum, House of People's Creative Arts and Leisure and many others. Volga-Dnepr has given many years of support to the Ulyanovsk Drama Theater. Volga-Dnepr supports cultural endeavors beyond Russia's borders, too. For example, an Orthodox church has been built in Sharjah using funds provided by the Sharjah-based Volga-Dnepr office employees, among other donations.


Sports and Healthy Lifestyle Projects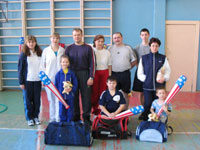 The Group of Companies strongly believes in advocating a healthy lifestyle and supports this idea through sponsorship of a great number of athletic events. Volga-Dnepr acknowledges receipt of thanks from many organizations that have benefited from their support including, the Ulyanovsk City Sports Committee and the Federation of Aviation Sports to name but a few.